Submitted by
Andy
on Thu, 09/10/2014 - 12:25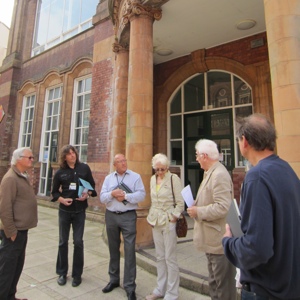 Potteries Heritage Society led a successful tender to co-ordinate Heritage Open Days in Burslem this September. The project was funded through the City Council's Burslem Buildings Improvement Scheme. Working with Urban Vision, we promoted and helped organise four events, which spanned three days, two of which were repeated.
The weekend kicked off on Thursday morning, 11th September, when PHS members Fred Hughes and Andy Perkin presented the Heritage of Retail in Burslem. Fred began by turning the clock back 100 years to records of a town dominated by clothes shops, butchers and a bustling indoor market. Andy continued with story of the decline of retail in the town, offering some of the reasons why it happened, and concluded by looking at why Burslem is well placed to regain its fortunes in the future.
Later that day, the Leopard Hotel opened its doors for a tour of the former hotel rooms, abandoned and unused since the 1950s. The tour, led by magician Chris Squire, included tales of Molly Leigh and the historic meeting of Josiah Wedgwood and James Brindley, before creeping into the basement armed with torches. The hotel rooms offered a fascinating insight of the buildings heyday, having remained unchanged for over 60 years.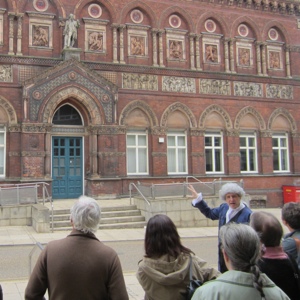 On Friday visitors assembled outside the Wedgwood Institute for an introduction to historian Andrew Lound's "Lunatic Astronomy" presentation. The talk continued inside the Burslem School of Art's atrium, accompanied by audio visual effects, and followed the story of the 18th century Lunar Society. Andrew's presentation focused particular attention on Josiah Wedgwood's role in developing optics for pioneering astonomers.
Meanwhile, during the afternoons of Thursday, Friday and Saturday, there was a chance to visit one of the City's most innovative new uses for a historic building. Having served its time as a chapel and a school, Wycliffe Hall at the top of Furlong Lane had been neglected for many years and used only for storage. The building, believed to be the work of Absalom Rhead Wood, has many of the glasing and terracotta trademarks associated with the architect.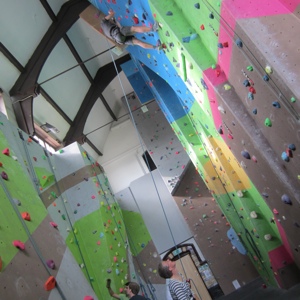 Two years ago, a community interest company was formed to take on the building's restoration and establish the Kilnworx Climbing Centre. Now over 100 climbing routes take you to the ceiling of the hall, together with abseiling stations and a traversing wall, and there are further developments in the pipeline.
For Heritage Open Day, the centre gave tours of the building and offered a free climbing session to over 50 people across the three days.
The four events were among sixteen open days and tours taking place in the City, including free visits to our local museums, access to heritage buildings, walks and boat trips. Heritage Open Days has taken place every September for the last 20 years and is co-odinated nationally by English Heritage.