Here we look at the sites that have inspired the artists. The sites are numbered as in the City's Heritage Action Zone catalogue - roughly north to south.
Click for a presentation (...thanks to Terry Woolliscroft):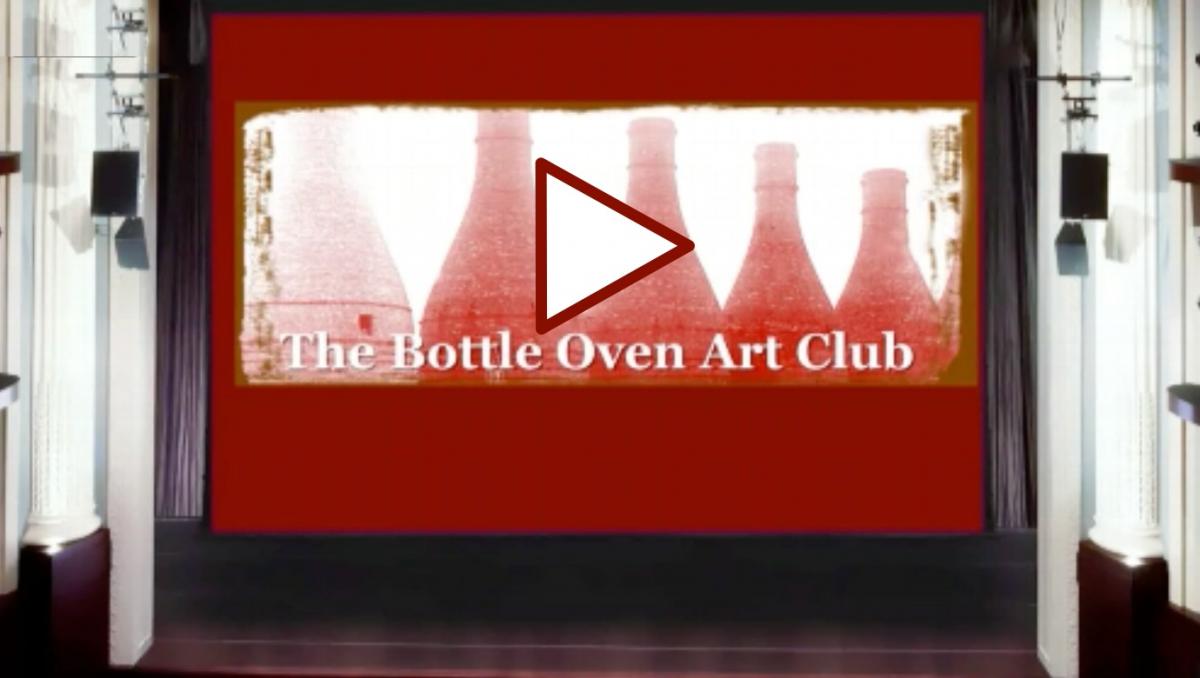 or click on the artworks below to revisit the appropriate gallery room for each picture.
Site 3 : Furlong Mills - Furlong Lane, Burslem, ST6 3LE
Two calcining kilns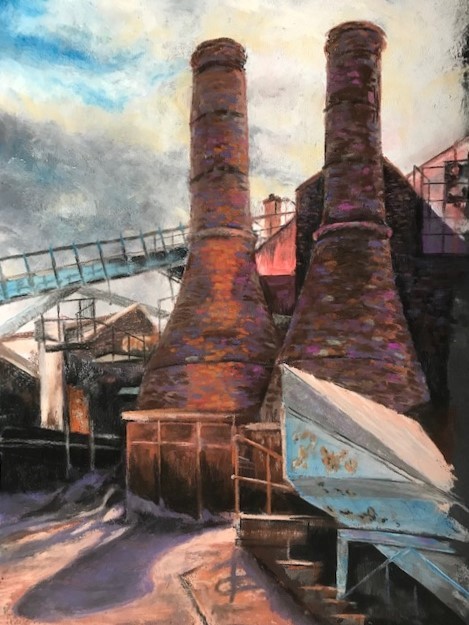 The inspiration for Pam Bennett's Evening Light at Furlong Mills, as viewed from the gates off Furlong Lane.
Site 4 : Price & Kensington - Newcastle Street, Longport, ST6 4LR
Updraught hovel type bottle oven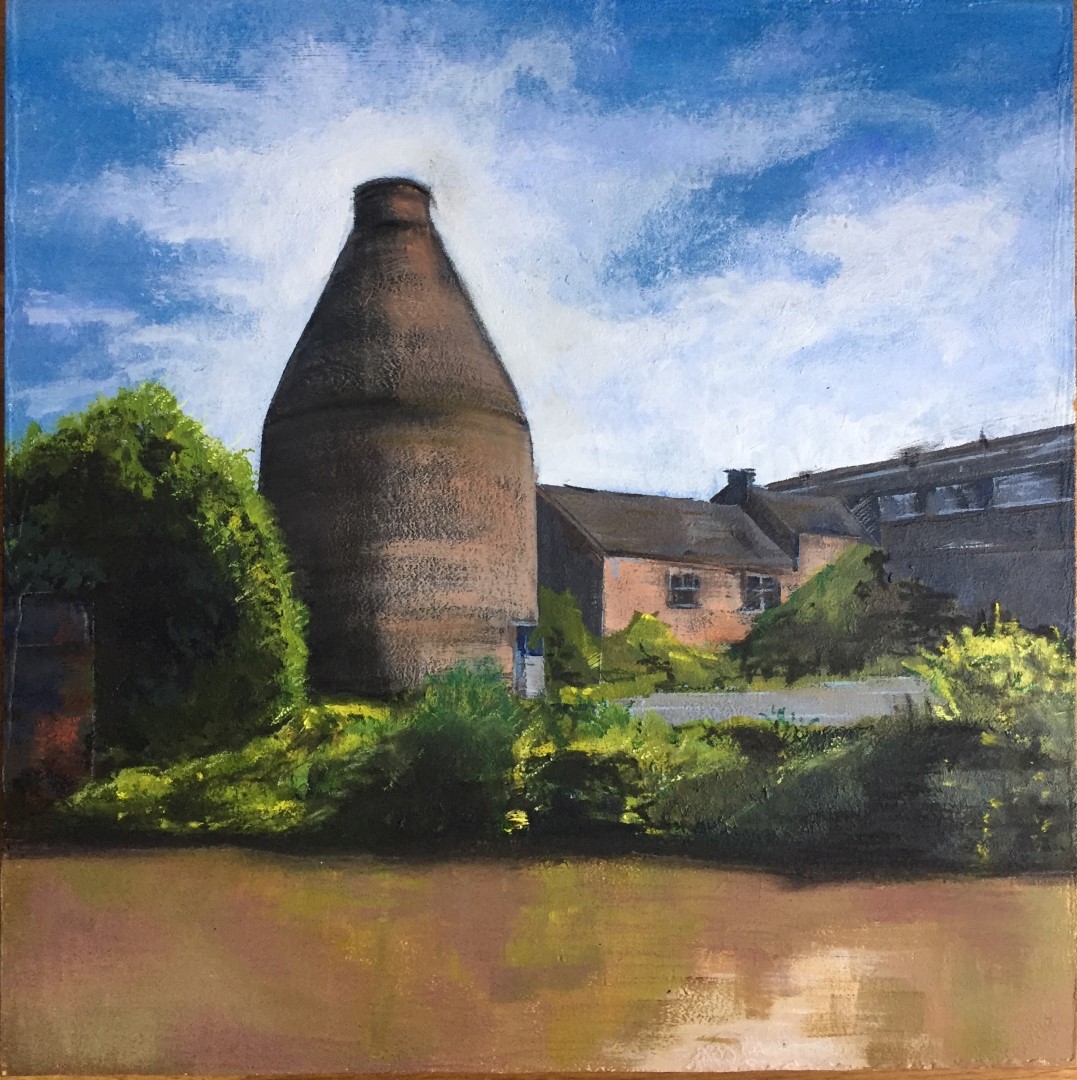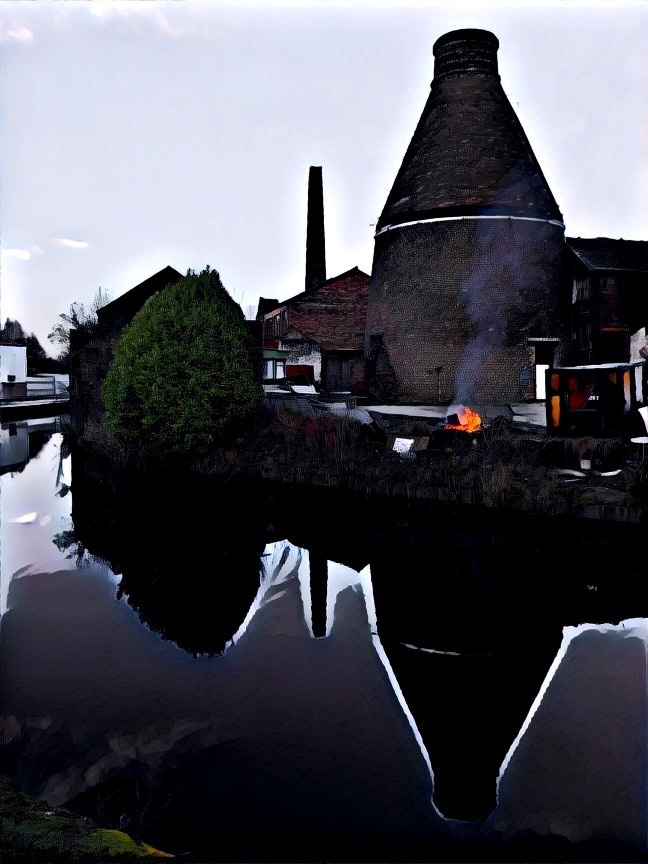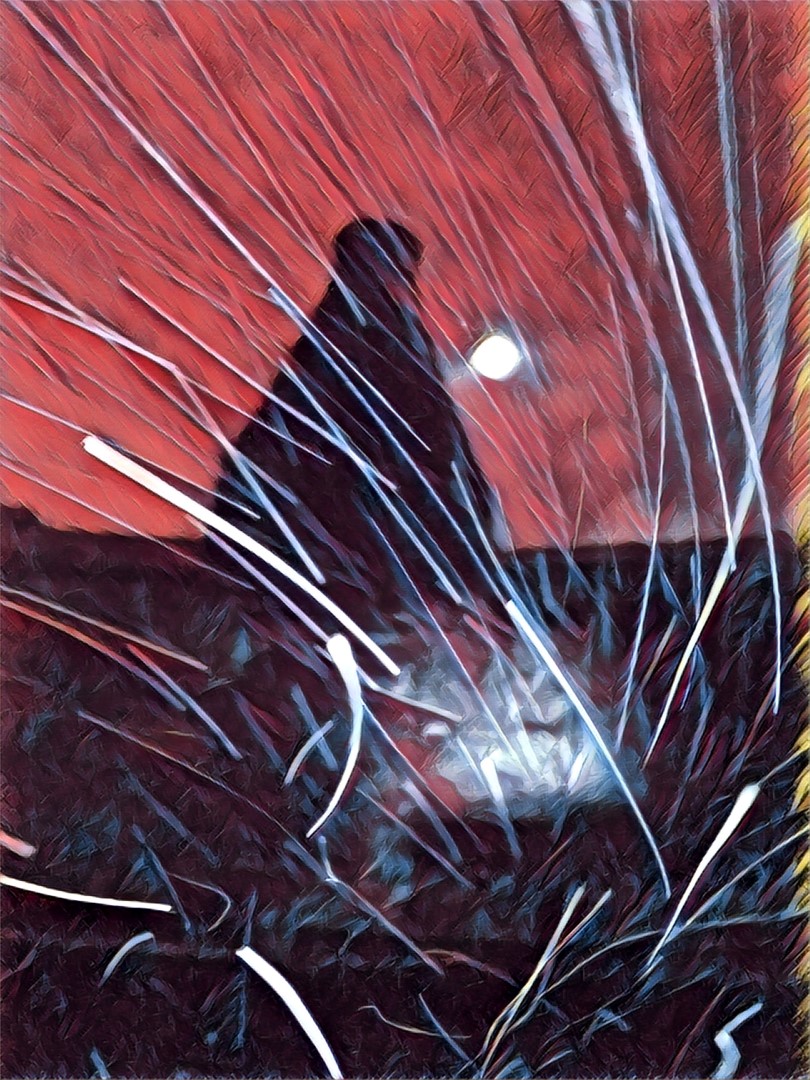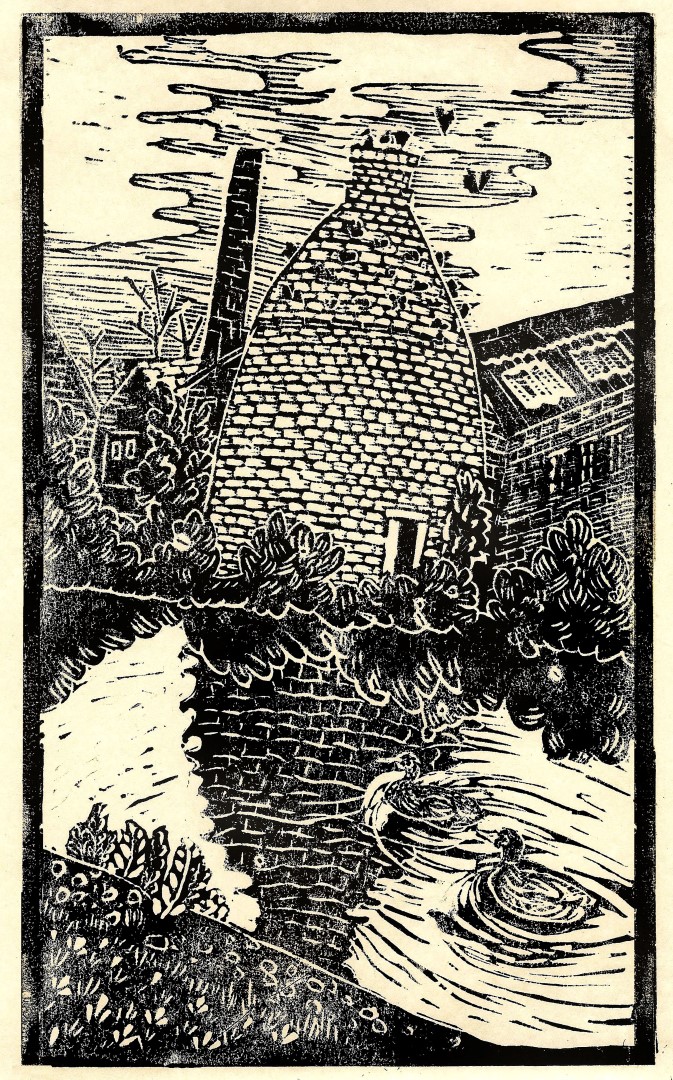 Featured in Nick Moore's Top Bridge Works, Steven Fergusson's Reflections and (we think) his Snow Place Like Home (an inverted reflection?) and Katie Forrester's marvellous lino cut Bottle Kiln in Middleport.
Site 5 : Middleport Pottery - Port Street, Middleport, ST6 3PE
Updraught hovel type bottle oven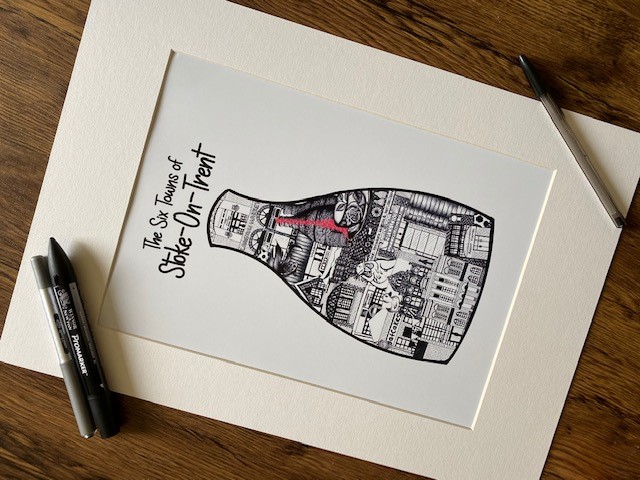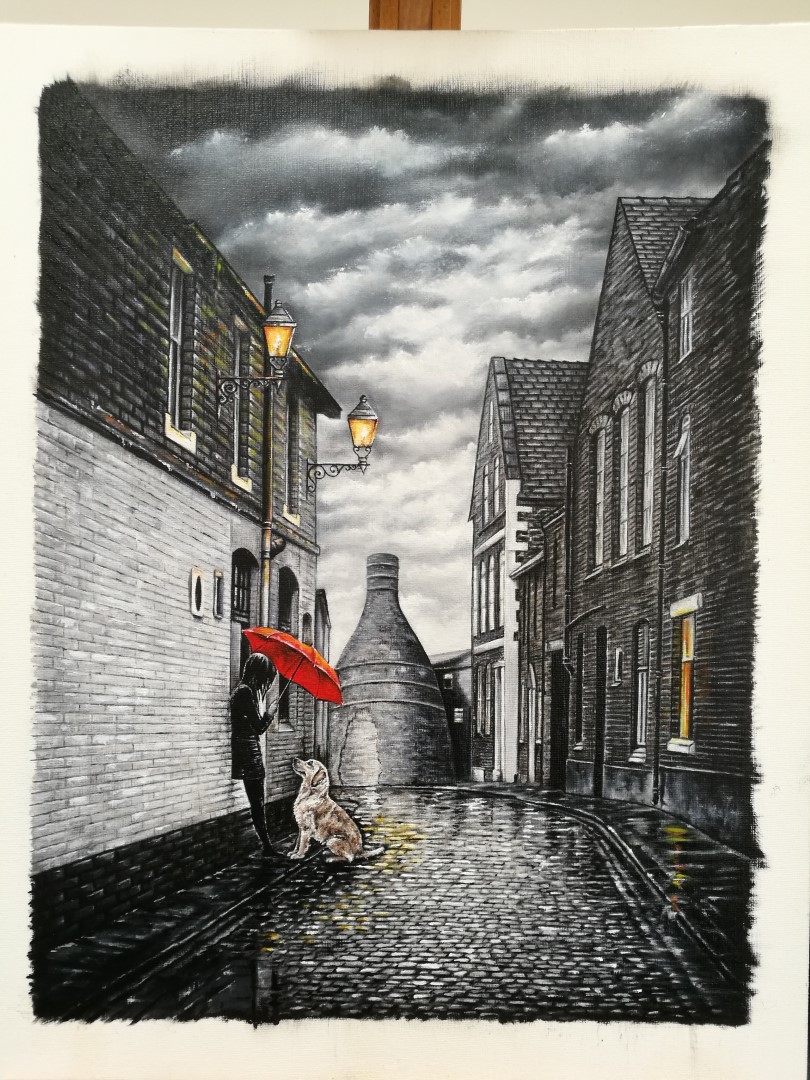 Appearing in the background of Megan Poxon's Six Towns Filled Oven and Steven Howard's Best Friends, Middleport Pottery's oven is shown out of its usual context and, in Megan's image, with 2018's Weeping Window installation.
Site 12 : Johnsons Brothers - Eastwood Road, Hanley, ST1 3LN
Two calcining kilns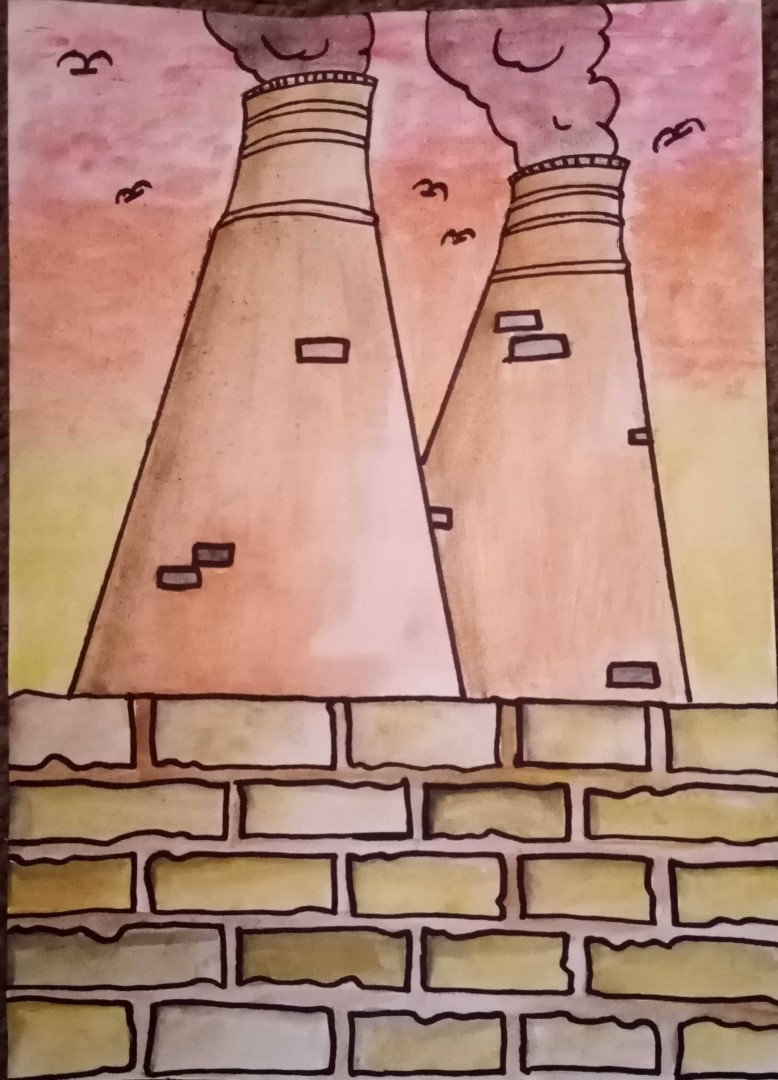 Not sure if young Alyana Malik would remember the site before the boundary wall was demolished, but Bottle Oven Day certainly reminds us of the old view from the canal.
Site 15 : Cliffe Vale Works - Shelton New Road, Cliffe Vale, ST4 7AL
Two calcining kilns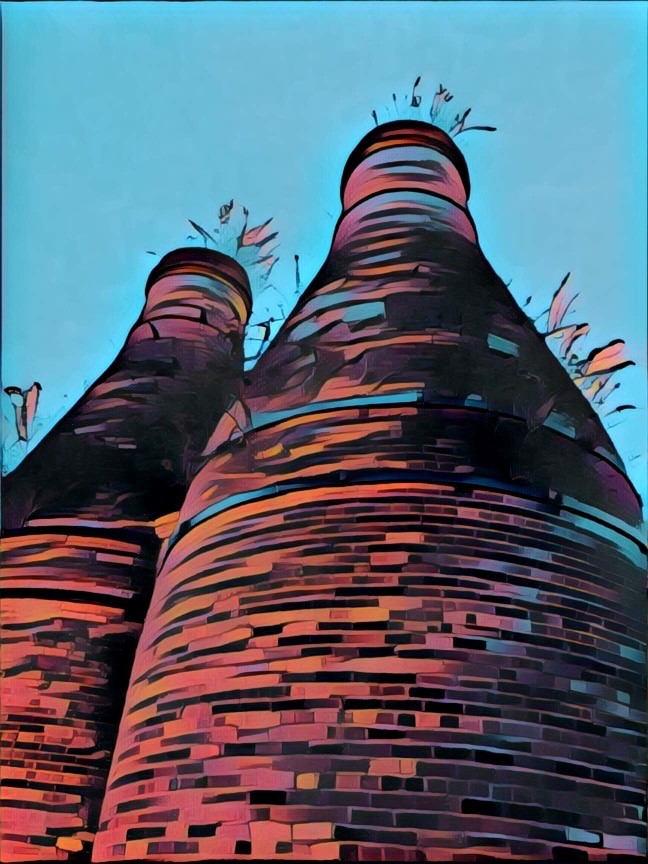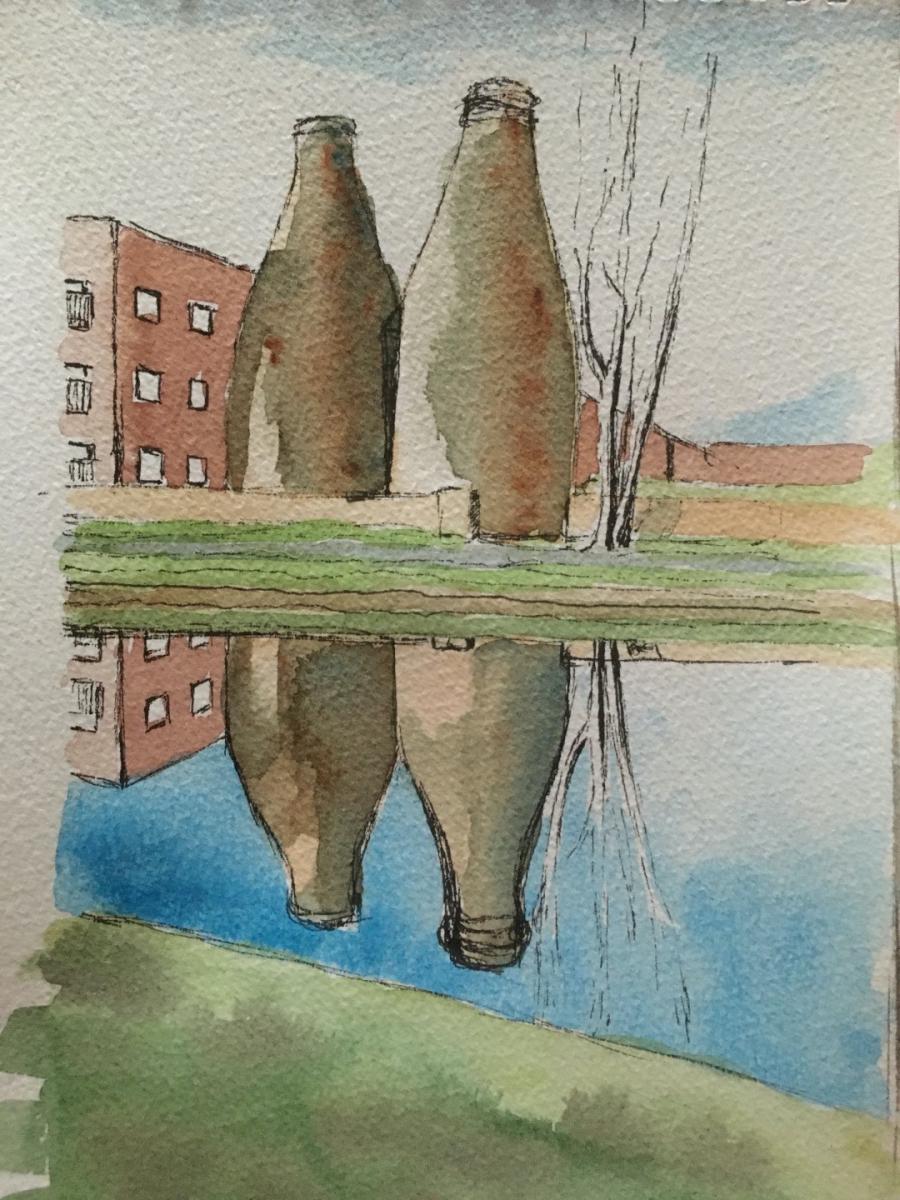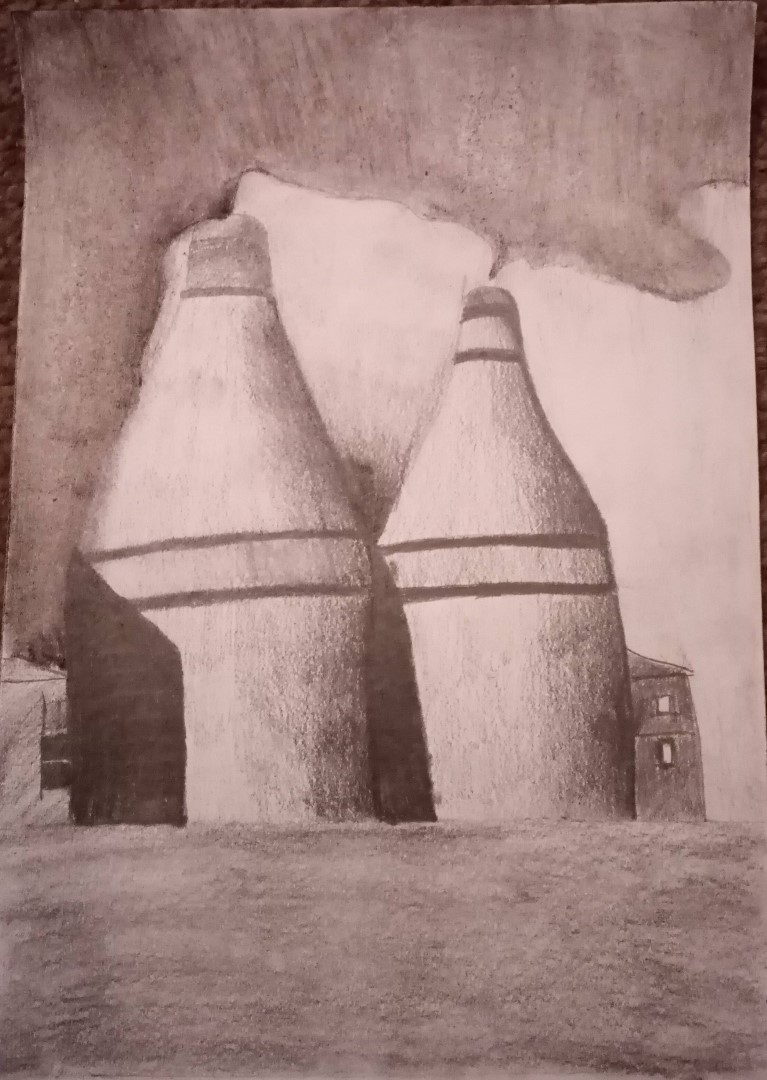 Seen here disguised by Steven Fergusson's processed photography in Bit of Blue, Mary Parker's Twyfords Reflections and (we think) young Adam Malik's Bottle Oven Day (the bonts are spot on!).
Site 18 : Falcon Works - Sturgess Street, Stoke, ST4 7QH
Two updraught stack, hob-mouthed bottle ovens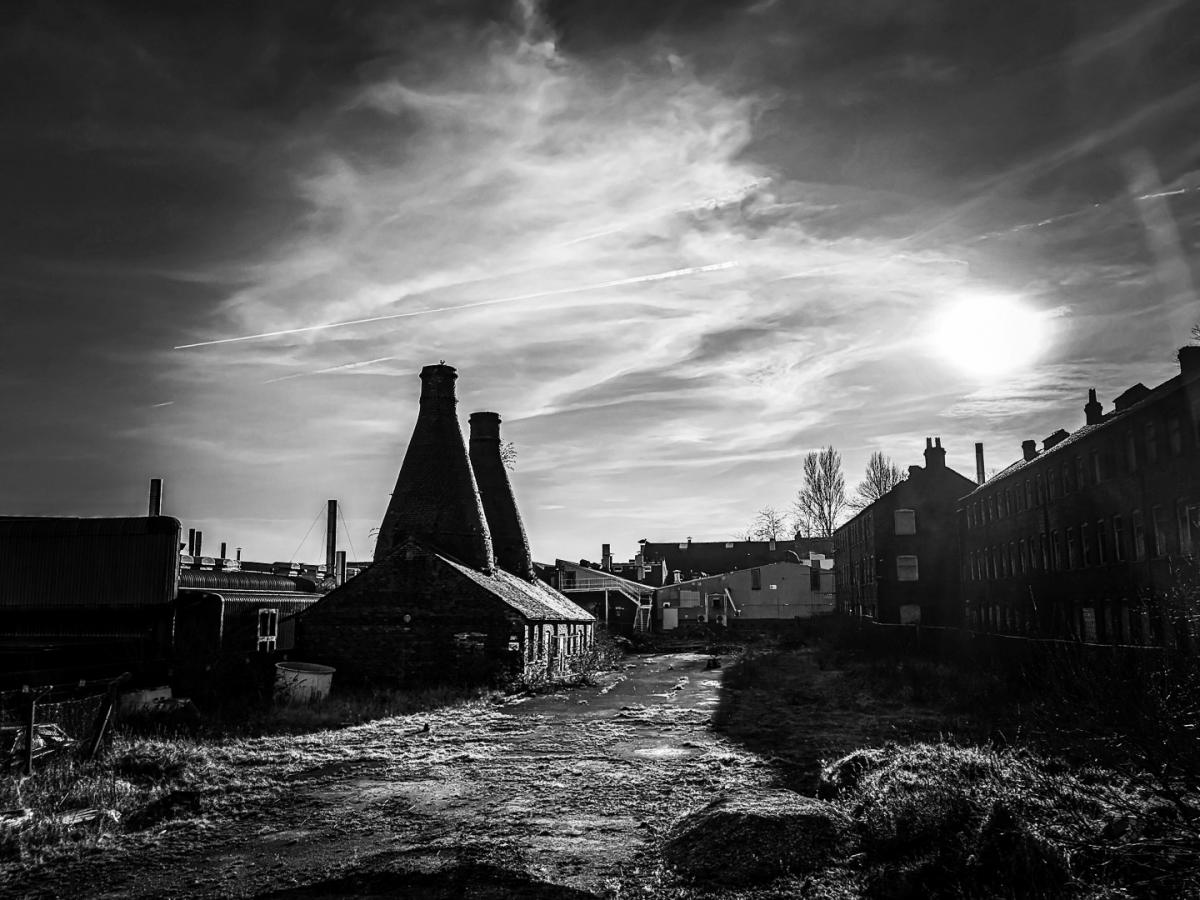 Viewed from Sturgess Street in Philip Shallcross's Falcon Works.
Site 19 : Fountain Works - Fountain Street, Fenton, ST4 2HB
Three calcining kilns

Sara MacKian's exciting montage Anna of the Five Towns includes ovens from several sites including Gladstone, but we spotted James Kent's "Pepper" and "Vinegar" kilns on the left hand side.
 Site 21 : Phoenix Works - King Street, Longton, ST3 1EZ
Two updraught skeleton bottle ovens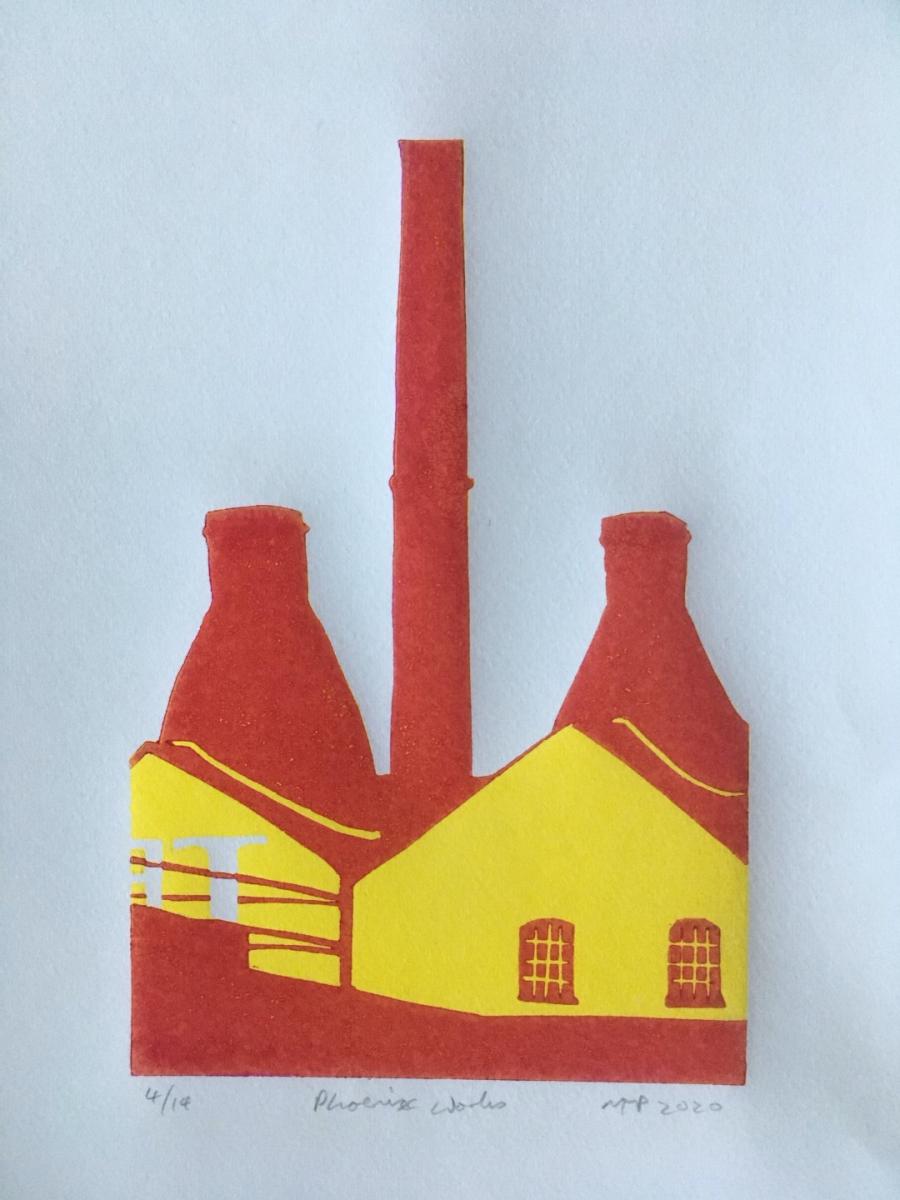 As viewed from over the railway line from Baths Road in Mary Parkers linocut Phoenix Works.
Site 22 : Commerce Works - Commerce Street, Longton, ST3 1NW
Two updraught skeleton bottle ovens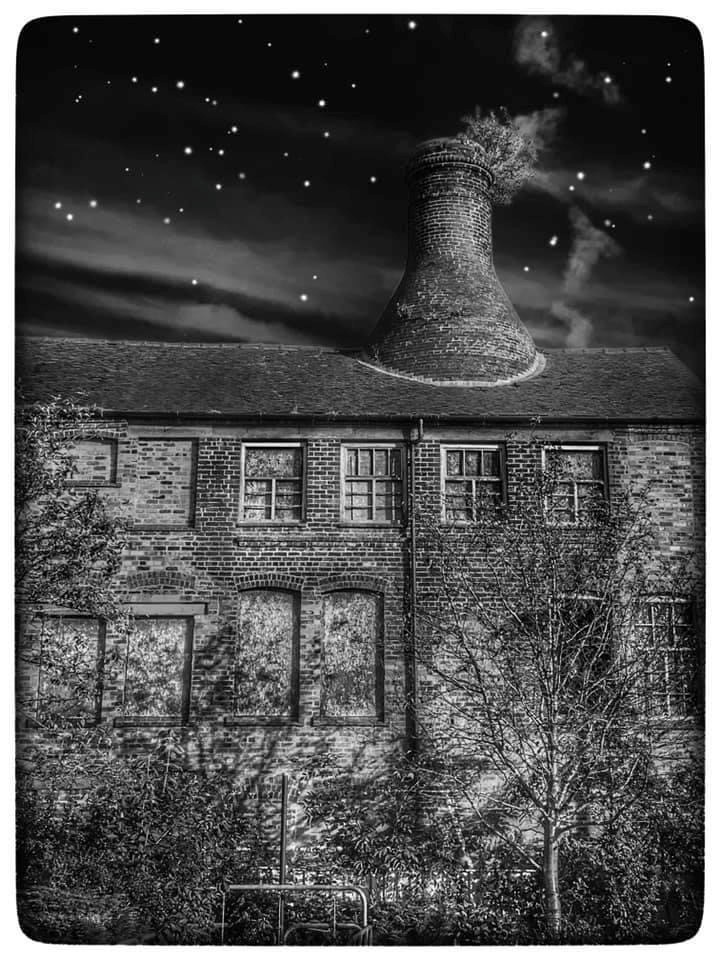 As viewed from the retail area car park at the rear in Leigh Bourne's A Starry Night in Longton.
Site 23 : Gladstone Pottery Museum & Roslyn Works - Uttoxeter Road, Longton, ST3 1PQ
Four updraught hovel bottle ovens and one decorator's muffle kiln (Gladstone) and two updraught stack bottle ovens (Roslyn)
As the largest group of bottle ovens in the city, perhaps to be expected as the inspiration for many of the pictures:
Philip Shallcross, Gregory Perkin, Evie Davis's Orange Glaze and Mandy Garratt's ...Oatcake served on a Burlington Plate all show the view from the car park,
...while Leigh Bourne's A Winter Sunset and Roslyn Works Arch show the view from Uttoxeter Road
Geoffrey Collier's 1960 image is inspired by a view of the courtyard, and we suspect Kirsty Cotton's A Place I Call Home and Dianne Coomer's Middleport Potters were similarly inspired.

Sara MacKian's montage Anna of the Five Towns includes ovens from several sites including Gladstone.
Site 24 : Sutherland Works - Normacot Road, Longton, ST3 1PS
Three updraught skeleton bottle ovens
Although these are internal views, we know Bill Goodall's charcoal drawings are taken from sketches made during the "Last Bottle Oven Firing" in 1978, which took place at the Sutherland Works' small updraught skeleton oven to the west of the site.
Site 25 : Enson Works - Chelson Street, Longton, ST3 1PT
Four updraught stack bottle ovens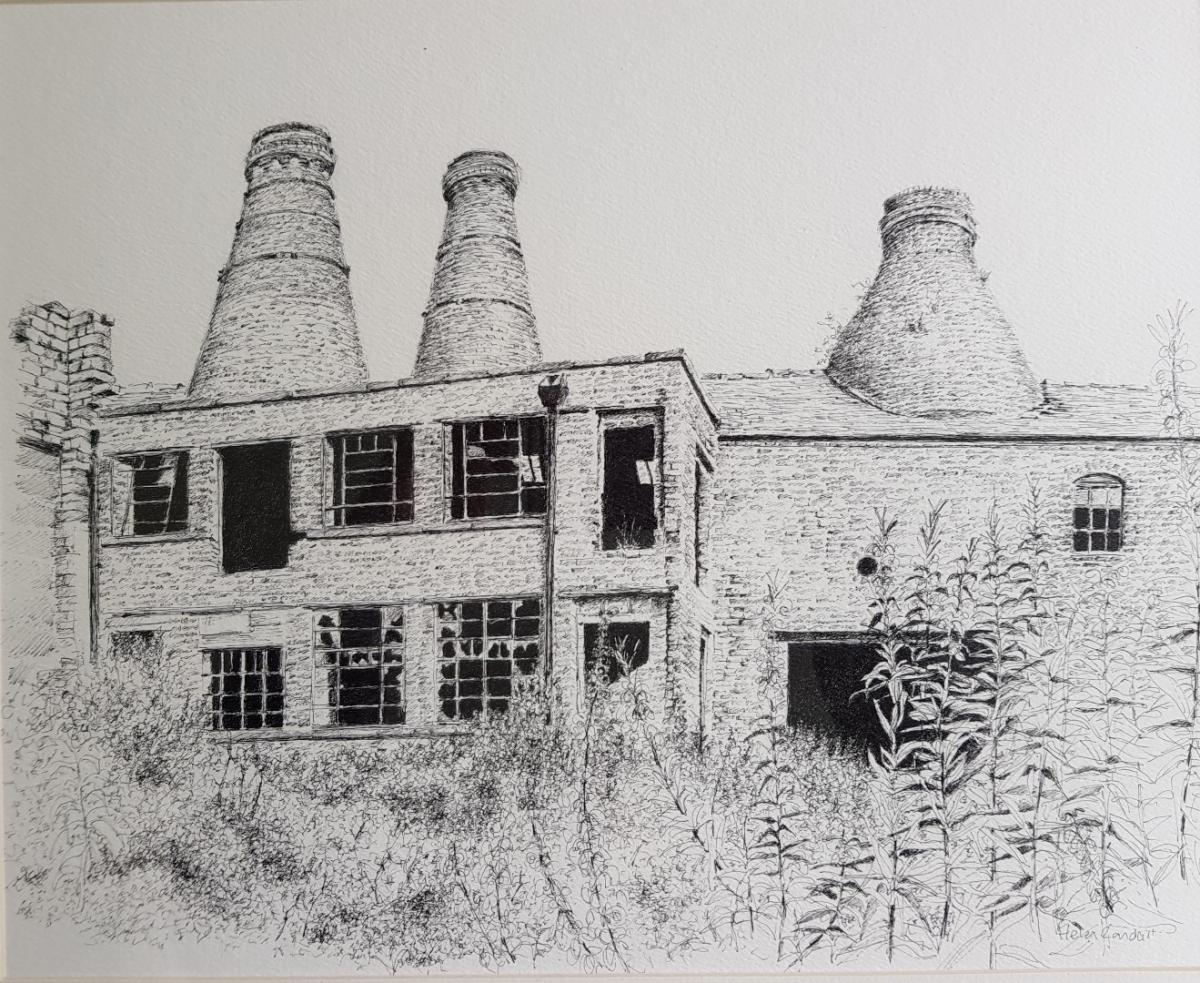 Helen Randall's Chelson Street shows the delelict Enson Works before its refurbishment as CoRE.
Site 27 : Minkstone Works - Normacot Road, Longton, ST3 1QD
Helen Randall's Normacot Road shows a view of the Minkstone oven before it was encased in scaffolding, while Mary Parker's linocut Minkstone shows the oven as it looks today.
Other sites...
...that no longer have bottle ovens or are outside the city:
Eastwood Pottery - Lichfield Street, Hanley
Roy Bagnall's Seven Sisters and Rebecca Davis's Memories of Meakins show the canal side bottle ovens which one graced the Emma Bridgwater site in Hanley.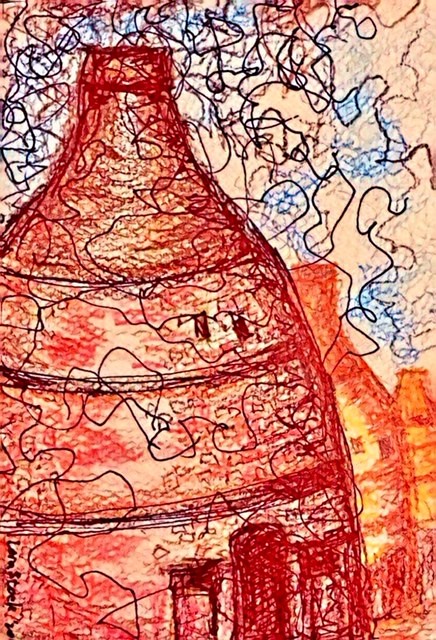 Perhaps Lora Stock's Smokey Dreams was inspired by the same image?
Peak Pottery - West Hallam, Derbyshire
Updraught skeleton bottle oven without firing chamber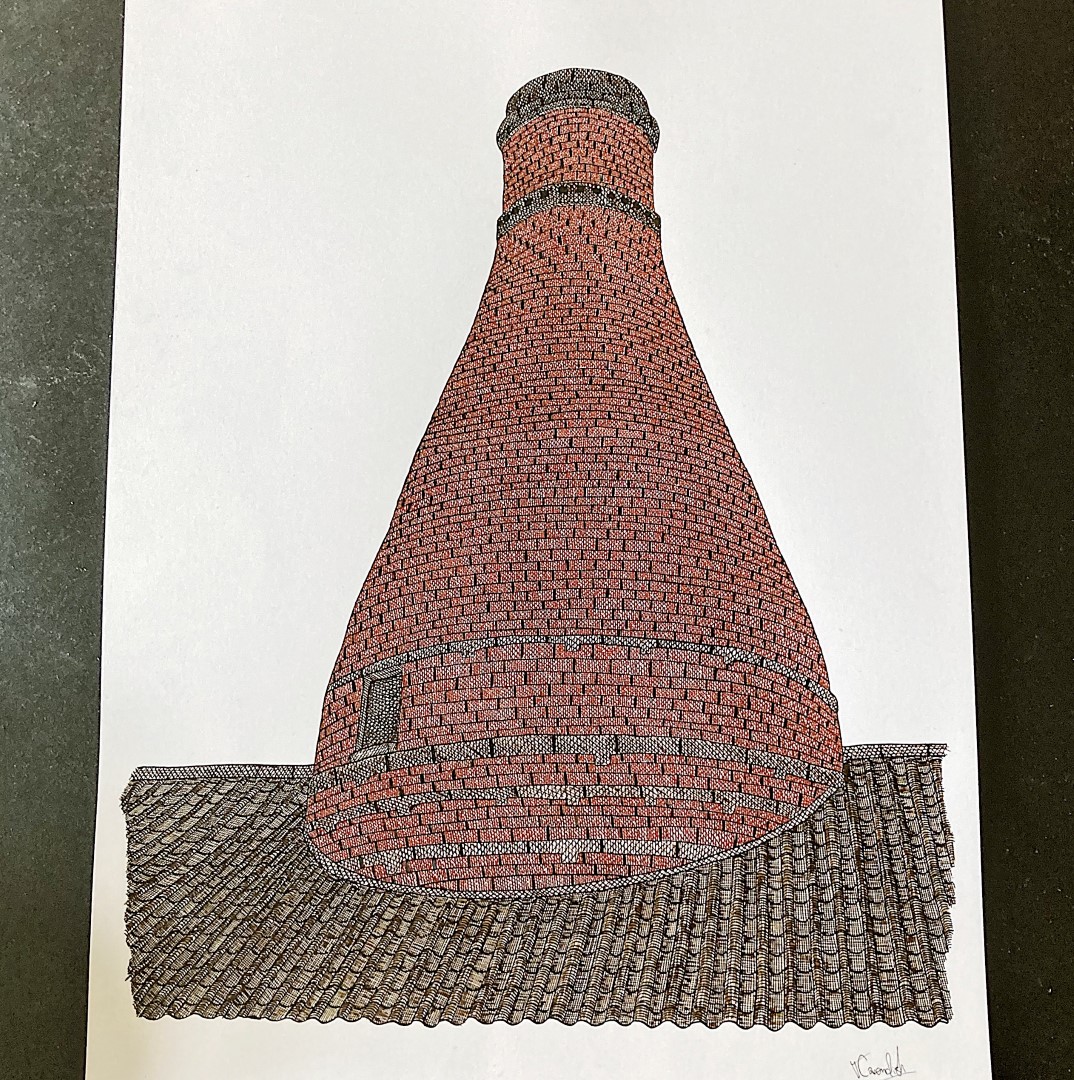 Did spot the odd one out? Tamzin Cavendish takes her inspiration for Bottle Oven 1 from the Bottle Oven Cafe in West Hallam - one of a dozen ovens that survive in Derbyshire.
You will have seen a few gaps in our site numbers - meaning that many of the bottle ovens that remain in the city are not featured in this year's gallery. There are a lot more places to set up your easel folks!
See: https://bottleoven.blogspot.com/p/whats-left.html